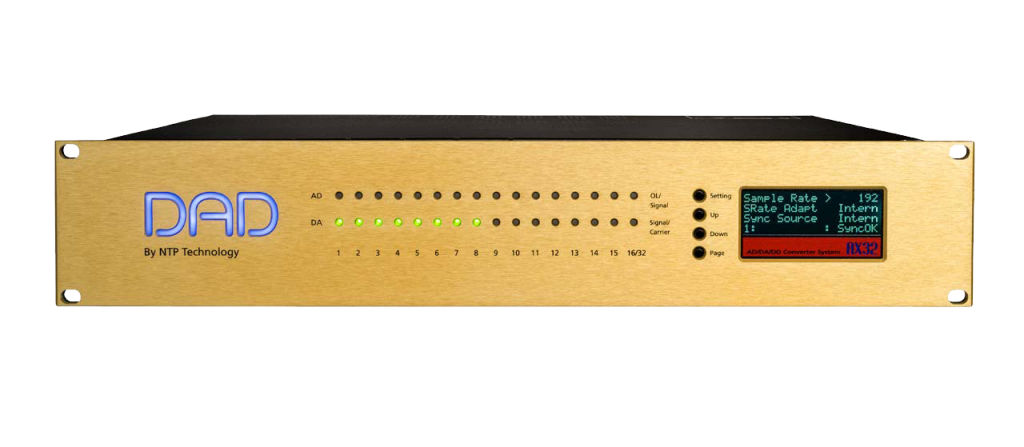 The Digital Audio Denmark AX32 is the digital audio Swiss Army knife, an audio routing hub, digital format converter, world-class AD/DA converter and monitor controller. The  AX32 changes seamlessly between workflows in seconds, optimising and improving production time and efficiency. A true investment in proven electronics and software with an expertly designed power supply that does not overheat. Upgradeable, expandable and reliable.
The DAD AX32 provides pristine AD and DA conversion with superb sonic quality, a versatile I/O structure with IP Audio via Layer 3 Ethernet (Dante,) up to 48 analogue audio channels and a flexible digital signal interface, digital audio format conversion, routing and distribution structure. 
With all I/O card and options installed, there is control of a 1,500 x 1,500 matrix of audio channels. 8 I/O cards and 2 I/O modules can be installed providing flexibility and a swift change between workflows at your fingertips. 
All operation and functional control is managed via the DADman control software.
AD/DA INTERFACE CONFIGURATION WITH MIC-PRE OPTION
8 to 48 analogue channels
8 channels on a card. Up-to 6 analogue card can be installed
8 ch. Line in AD card and 8 ch. Line/Mic pre in AD card
8 ch. Line out DA card with output level control
Sample rates 44.1 kHz up-to 384 kHz/DSD
High precision internal clock and PLL
VERSATILE DIGITAL INTERFACE STRUCTURE
Dante 128 ch. I/O Card w/ SRC
8 AES3 I/O interfaces
MADI coax and optical I/O
3G SDI embedded audio I/O
Ethernet IP audio interface for 64 I/O channels using Dante(TM)
Synch via word clock, AES11, Video, and all digital I/O
Adapt to incoming sample rate
High precision internal clock and PLL