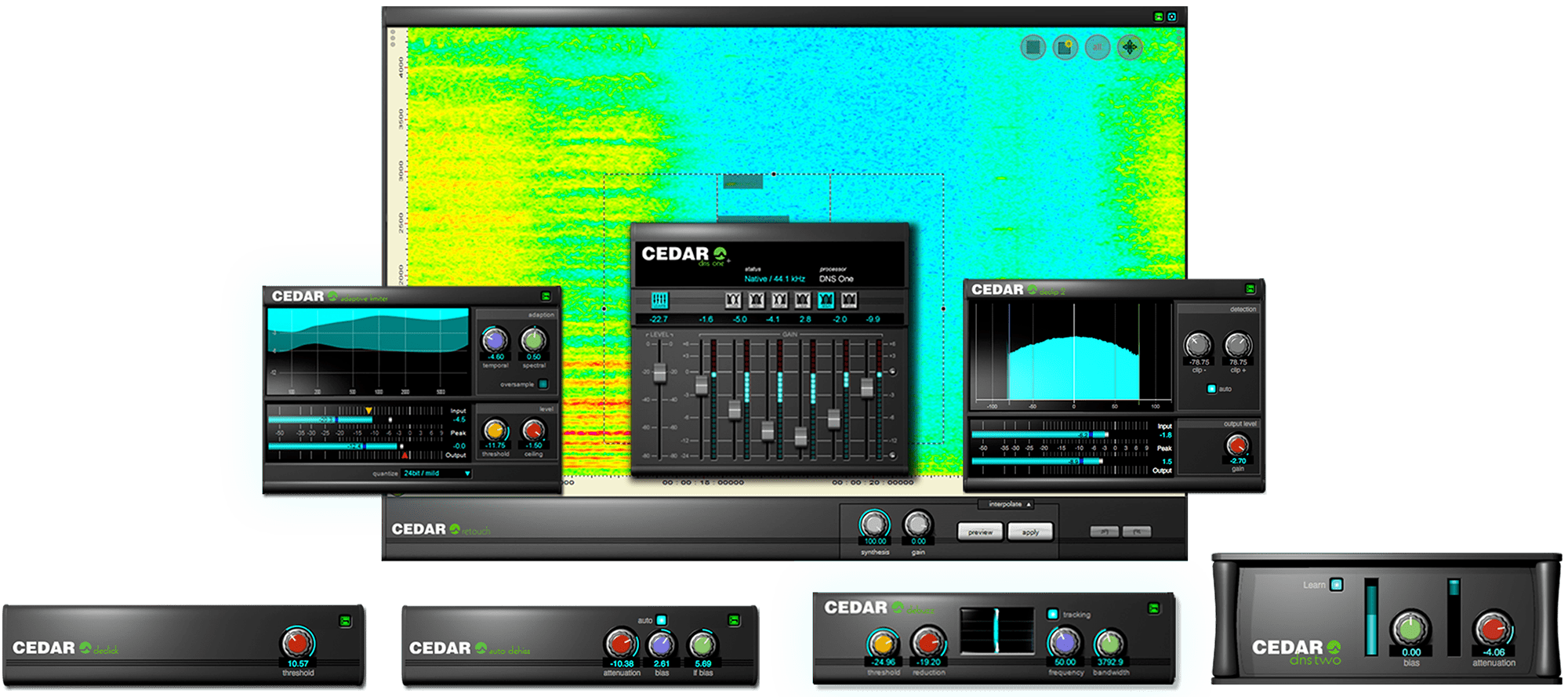 Available as a range of AAX, VST2, VST3 and AU plug-ins (as well as offering a standalone version of Retouch™) for Windows 7 onward and OS X 10.9 onward, CEDAR Studio 8 comprises eleven advanced processes that allow you to eliminate a wide range of common problems and significantly improve the sound quality of your audio. Each CEDAR Studio 8 process has been derived from our multi-award-winning CEDAR Cambridge™ flagship, and provides unsurpassed results, quickly, and with the minimum of fuss and user intervention.
Available products include: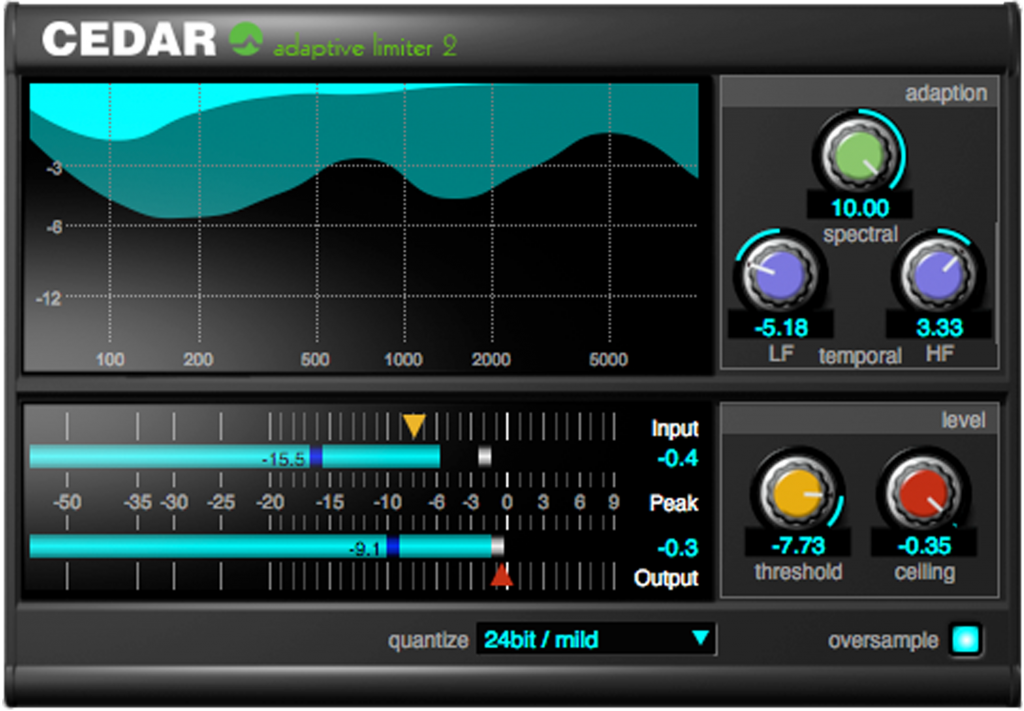 Adaptive Limiter employs another unique algorithm developed by CEDAR that constrains the peak level of the output while retaining the integrity of the input. The result is a perfectly controlled signal that remains much more natural than audio processed using other limiters. It is also an unsurpassed loudness maximiser and, with its advanced resampling and noise shaping capabilities, is ideal for mixing, final mastering and other creative duties.

Auto Dehiss embodies an advanced algorithm that is far less susceptible to the unwanted side-effects sometimes called twittering, glugging, the 'underwater sound', and even 'space monkeys'. In short, it's able to determine the broadband noise content and remove it without the introduction of these unwanted artefacts. A manual mode is also offered for fine-tuning the results when wanted.

Debuzz quickly and easily removes all manner of buzzes and hums with fundamentals as high as 500Hz, and it can eliminate unwanted signal components across the entire audio spectrum. It will track wandering tones and, unlike traditional filters, can successfully restore the audio without unwanted side-effects such as limited bandwidth or the hollow sound introduced by comb filters.

Declick offers better impulsive noise detection and a better interpolator than any other plug-in declicker. This results in superior performance across a wider range of material than ever before. Indeed, this performance is so good that, in most cases, it's not possible to hear that the signal was damaged prior to restoration.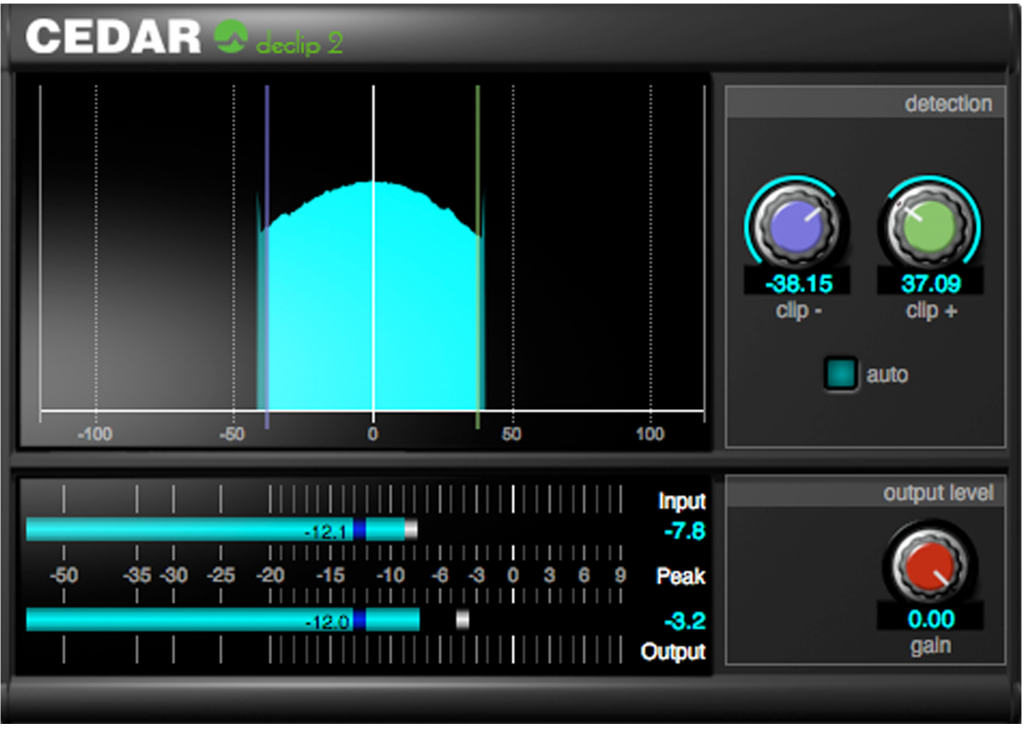 Declip 2 effortlessly removes clipped samples and reconstructs the original signal, improving clarity, eliminating distortion, and restoring the original dynamic range of the damaged audio. Our latest algorithm even tracks the clipping amplitude so that material that has later been processed with dynamics packages can still be restored.

Decrackle boasts a remarkable ability to dig into the damaged signal to identify and remove all manner of ground-in and grungy crackle without damaging the wanted audio. It also removes many forms of buzz and some amplitude distortions from material ranging from cylinder recordings to current broadcasts contaminated with lighting buzz.

Dethump eliminates the extended low-frequency thumps that cannot be restored using conventional declicking processes and filters. It replaces the unwanted sound with restored low frequency audio and is the ideal tool for removing many of the previously intractible problems associated with optical soundtracks, cylinders, 78rpm discs, and even modern recordings when, for example, microphones and stands are bumped. Available for Pro Tools only.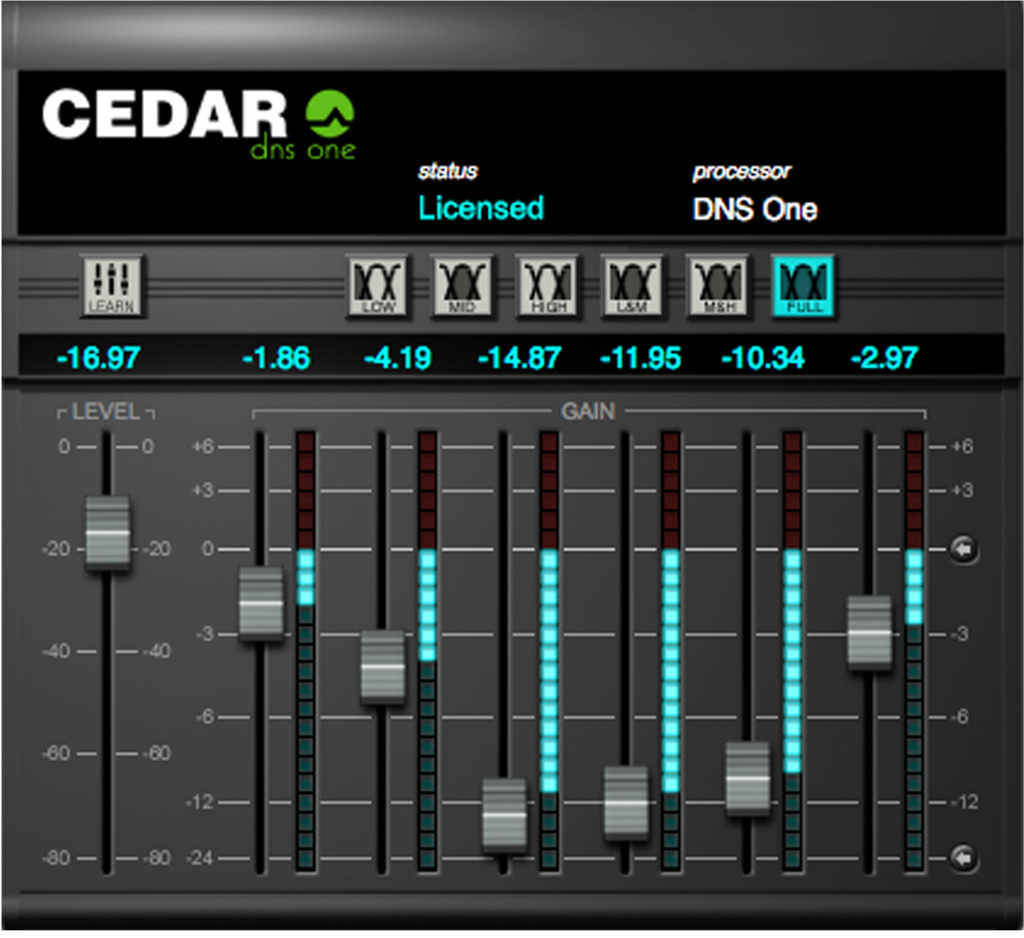 If you work with film dialogue, the speed, flexibility, and ease of use of DNS One provides solutions to audio problems that you could not previously solve. It's the standard for multi-channel post-production in the film, video, and TV industries. It's also ideal for removing motor noise from recordings, for eliminating electrical interference, and for helping to clean up recordings suffering from unfavourable acoustics and poor microphone locations.

A huge success within the DNS 2™ hardware unit, the newly developed algorithm in DNS Two has already proved to be the quickest, simplest and most effective dialogue noise suppressor ever developed. In almost all cases, using DNS Two is as simple as switching on LEARN and then adjusting the attenuation to obtain the desired amount of noise reduction. If you're working with location sound recordists and studios who use DNS 2s, DNS Two will allow you to replicate their work precisely and fine-tune the audio for the best possible results.

Manual Declick is ideal for restoring the extended scratches and clicks encountered on many audio media – film, tape or disk, whether analogue or digital. Its unique dual algorithms – optimised for long clicks and scratches – will remove noises such as those found on optical soundtracks, as well as drop-outs and extended digital errors. Available for Pro Tools only.
Nowadays, we take spectral editing for granted, but it's a relatively recent invention, first seen in 2002 when CEDAR patented the underlying technology and announced the first version of Retouch. It's not an exaggeration to say that it changed the mastering industry and, today, it's quite likely that you have access to some form of spectral editing that's manufactured under licence from CEDAR.

When it was introduced, Retouch was a huge leap forward in sound processing technology. Unlike conventional restoration tools, it provided a wide range of time/frequency editing (TFE™) capabilities, and allowed you to define the temporal and spectral content of the sound you wanted to remove. Nowadays, it allows you to mark and process complex areas in its spectrogram using the types of tools commonly found in powerful photographic and image manipulation software. This makes it possible to identify all manner of sounds and noises which can then be manipulated using any of the processing tools at your disposal.

Matching
Using machine learning to identify problems…

There are many occasions when you will encounter similar instances of unwanted sounds in a track – things such as hi-hat spill in a multi-track recording, over-excited sibilants and plosives in a vocal track, or even the repetitive noise caused by a piece of machinery in the background. Traditionally, one would remove these sounds by identifying each event individually and then defining it manually prior to processing. But this is time consuming… sometimes very time consuming. So wouldn't it be nice if your spectral repair tool could look at the first instance that you identified and then go on to find all of the others? Well, it can.

Match allows you to mark one of the offending sounds and then ask the machine learning algorithm in Retouch 8 to find all of the other instances within the recording. A threshold control even allows you to bias its decision making toward including more or fewer possibilities so that you can find the level that includes everything that you want to remove but precludes events that seem similar but are actually wanted signal.

Having identified all of the matches, you can then eliminate them using the appropriate Retouch tool. You can process them individually, authorising and applying the chosen tool to each, or you can process all of the matches as a group, whereupon Retouch 8 will fly through the whole file in a tiny fraction of the time needed with human intervention. The increase in productivity is absolutely remarkable.