With the exploding number of content options available to consumers today, one question we get asked a lot is "I am using (name of streaming service). How many surround speakers should I get?".

Again, not only there are no simple answers to this question, and that the last answer anybody will want to hear is "buy something that caters to everything (physically doable but at a great cost)". The biggest problem with this thinking is that it is jumping the gun in the evaluation cycle that could
dangerously escalate in unwanted costs and result in an over-complicated system that does not fit your requirement.

Instead, a more sensible approach would be to take stock and cater to the majority of your usual content (at least 60%). All while understanding that the remainder is not necessarily underserved even if you have less than the "ideal" number of loudspeakers installed in your entertainment area.
To do that, we shall have a look at how your favourite content is (sonically) delivered, with a focus on surround formats.
The Humble 5.1: Dolby Digital (AC-3)
Some of us who are old enough to remember might know of an American company which we all struggled to pronounce its name when they proposed in 1991 what was then known as the "future of sound": the Dolby Digital or Dolby AC-3 format. It even had a rather epic trailer for its time, in line with its premiere release of Batman Returns in 1992.
(It's pronounced "dohl-bee". If you are still wondering… or struggling.)
The Dolby Digital format is a lossy codec that is scalable from stereo (2 speakers or channels) up to six discrete channels of sound. In its six-channel mode, surround sound is often configured as Left, Right, Centre, Subwoofer (or Low-Frequency Effects–LFE), Left Surround, and Right Surround.

Today, this configuration of surround loudspeakers has come to be known as the humble 5.1 (based on 5 content or "satellite" channels and a ".1" subwoofer channel). Dolby Digital also continues to this day as the industry standard and bedrock of all broadcast television and filmic content in many territories around the world. Further derivatives of this codec and standard such as MP3 (1993) and AAC (1997) can be found in the myriad of other online streaming platforms and content delivery methods too.

The reason why Dolby Digital is considered a "lossy" format is that audio has to be delivered in a digitally compressed manner to save on bandwidth, minimise technical hiccups and lower costs for broadcasters and publishers until the technology to deliver audio in its original likeness is available. This is why the bitrates often associated with Dolby Digital are 192 kbps for stereo and 320 kbps to 640 kbps for surround.
7.1: The King of Surround Sound
Many of us will be familiar with the "All around you" Dolby trailers shown in cinemas before a film. But did you know that it wasn't up until 2010, with Toy Story 3, that 7.1 audio became a reality?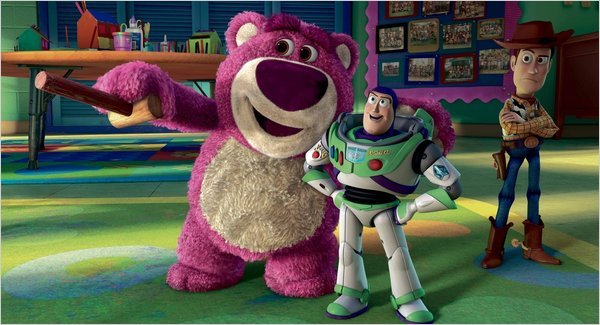 The difference between 5.1 and 7.1 isn't simply confined to the addition of two more discrete
channels in the surrounds. The way how these speakers are positioned in a room also mattered. In 5.1 configuration, the surround channels are recommended by industry watchdogs ITU to be placed slightly behind the listener, forming a 120°-arc from the centre of the screen. Whereas in 7.1, the surrounds are placed slightly forward of the listener at a 60°-arc from the centre of the screen. The sounds that are usually coming from the rear of the listener are then covered by the additional pair of speakers at a 150° placement.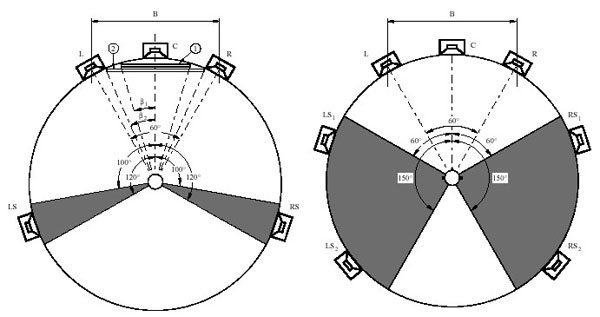 As is often the case with technology, 7.1 now becomes the new bedrock for delivering surround sound in cinema and home entertainment, replacing 5.1 in most fields. It is also the foundation in which the latest surround and immersive formats are established upon, as we shall explore next.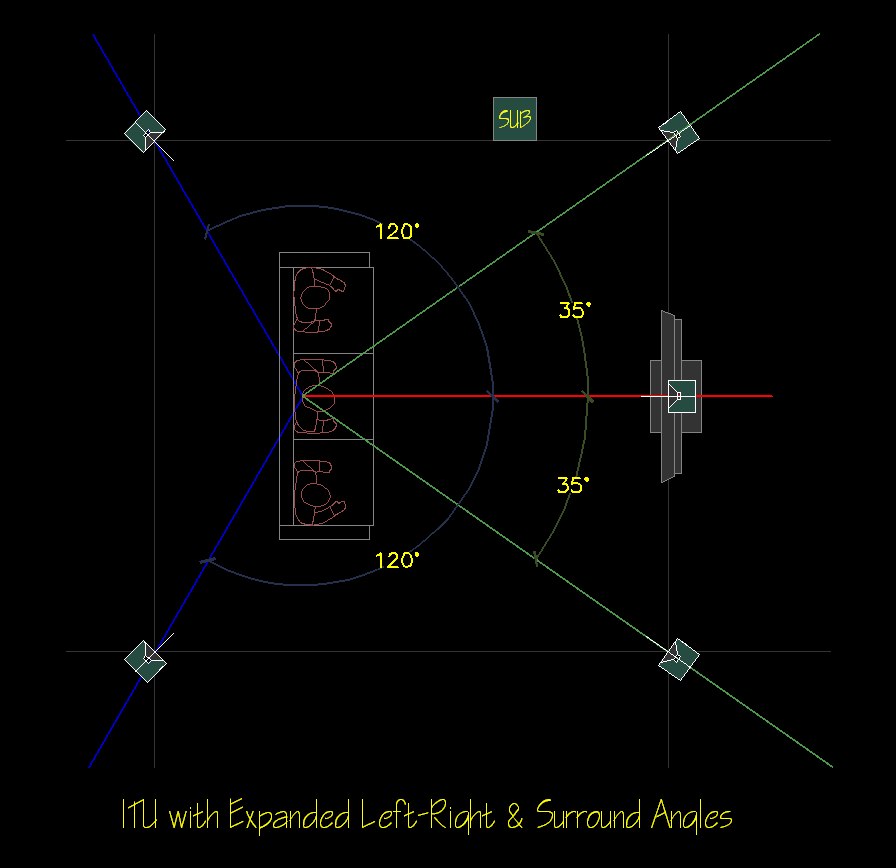 Going Beyond 8 channels:
The Modern Codecs and Other Competitors
To carry 7.1 (or 8 discrete channels) of information, the engineers at Dolby and their competitors realised that it was important to not simply develop a new codec that would put a limit at just carrying only 8 channels. While this also meant that high-bandwidth audio (and therefore requiring significantly larger data storage or transports) was still difficult, the ability to encode as much as 16 discrete channels (in 15.1) became a reality with the advent of Blu-Ray discs and "fat pipe" internet technologies.

Naturally, this came as an evolution of the old Dolby Digital codec as the Dolby Digital Plus (or E-AC-3). With E-AC-3, the allowed bitrates are now expanded to 6144 kbps (compared to 640 kbps in AC-3) and it allowed also the grafting of secondary dialogue and voiceover content such as director's commentaries or descriptive audio into a standard 5.1 or 7.1 stream.

Because of its versatility, Dolby Digital Plus is also the preferred codec for most popular digital content streaming platforms such as Netflix and the upcoming Disney+.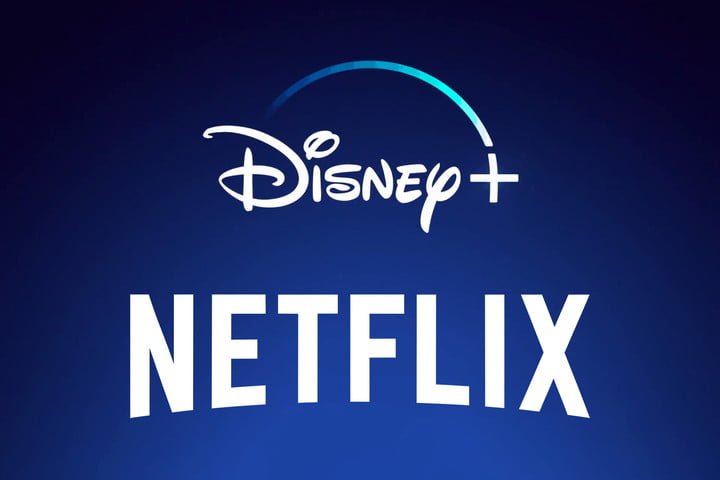 Of course, while Dolby was the dominant player in the market for surround sound, it was not alone.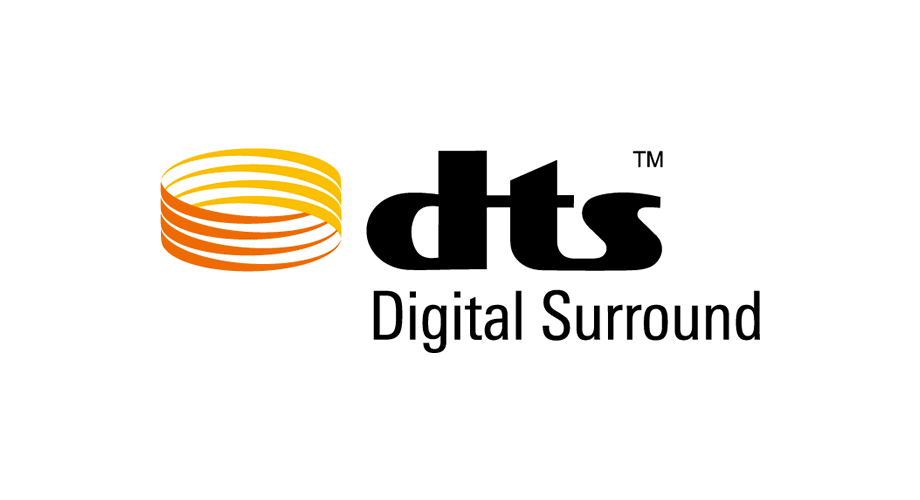 California-based DTS, Inc. (short for Digital Theatre Systems) introduced their technology as early as 1993 with Jurassic Park as a higher quality alternative to Dolby's. Since then, this "quality" rhetoric has been the primary vehicle for delivering many innovative and consumer-friendly codecs and formats such as the DTS Neo:6 and Neo:X engines (which can upmix and downmix multiple channel formats into "non-standard" configurations such as 3.1 or even 4.1 audio). DTS was also the first to introduce a lossless compression format (DTS-HD Master Audio) for home entertainment, which Dolby also followed suit with their own Dolby TrueHD. These novel formats allowed not just films, but also console games, to be shipped in high-quality surround sound when used with the right decoders. For the most part in the last decade, DTS-HD Master Audio also became the dominant delivery format for 5.1 and 7.1 content in the home entertainment space, especially where Blu-Ray discs are concerned.

More importantly, perhaps, these high-bandwidth, high-channel-count codecs also paved the way for the development of the immersive surround formats that we know of today.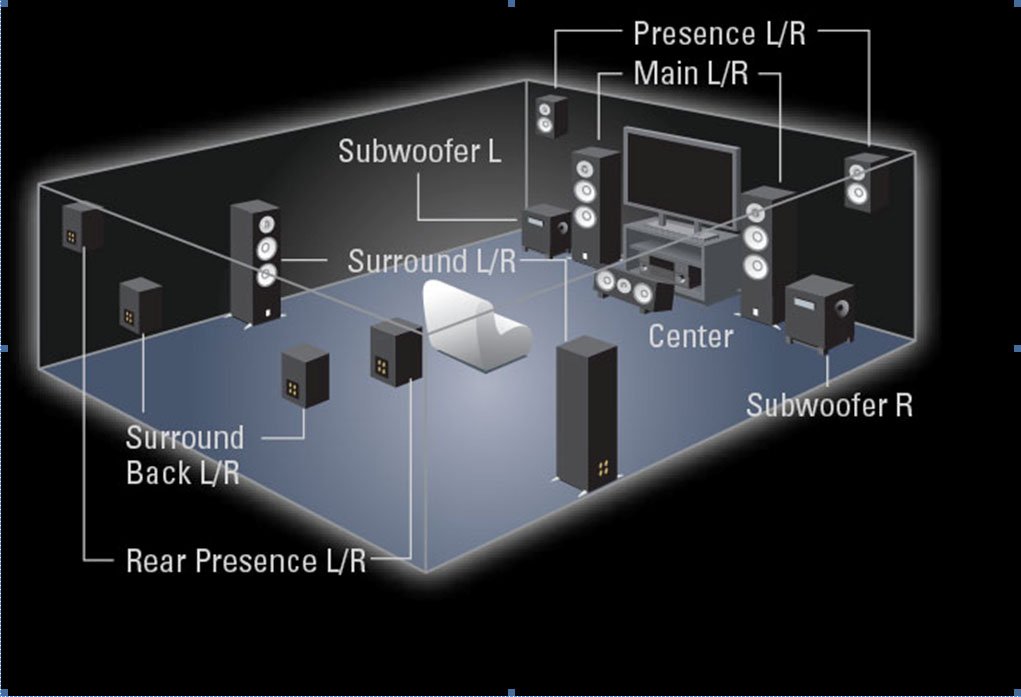 "Object-based" Immersive Formats
Fast forward to the present day, we now have three immersive content formats that build upon the venerable 5.1 and 7.1 from major brands. They are Dolby's highly ubiquitous Dolby Atmos, Auro's Auro-3D and AuroMax, as well as DTS's DTS:X.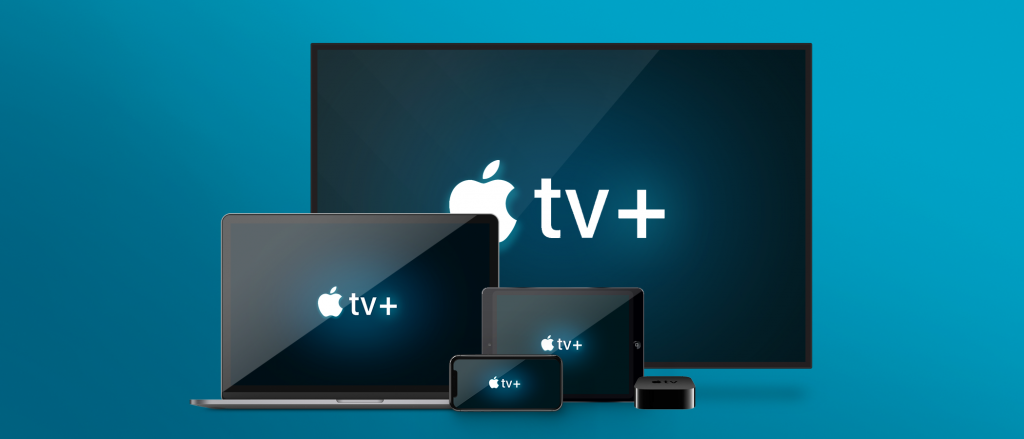 As far as content is concerned, Dolby Atmos currently dominates theatrical content and streaming platforms that originate from Hollywood and China. Auro-3D and AuroMax tend to find itself very popular with releases from some studios in North Asia, South Asia, Hollywood (in particular, Dreamworks, Sony and Universal) Europe and Singapore. DTS:X, while somewhat limited in codec-dedicated content, tends to find itself as the preferred intermediary presentation format between Dolby Atmos and Auro-3D. This means, that a DTS-X-enabled system can read both Dolby Atmos and Auro-3D content and translate to DTS:X speaker layouts easily. It might be worth noting that DTS:X is also the preferred codec for IMAX-enhanced UHD Blu-Rays. [NB: IMAX refers to a large-screen visual standard here, not audio.]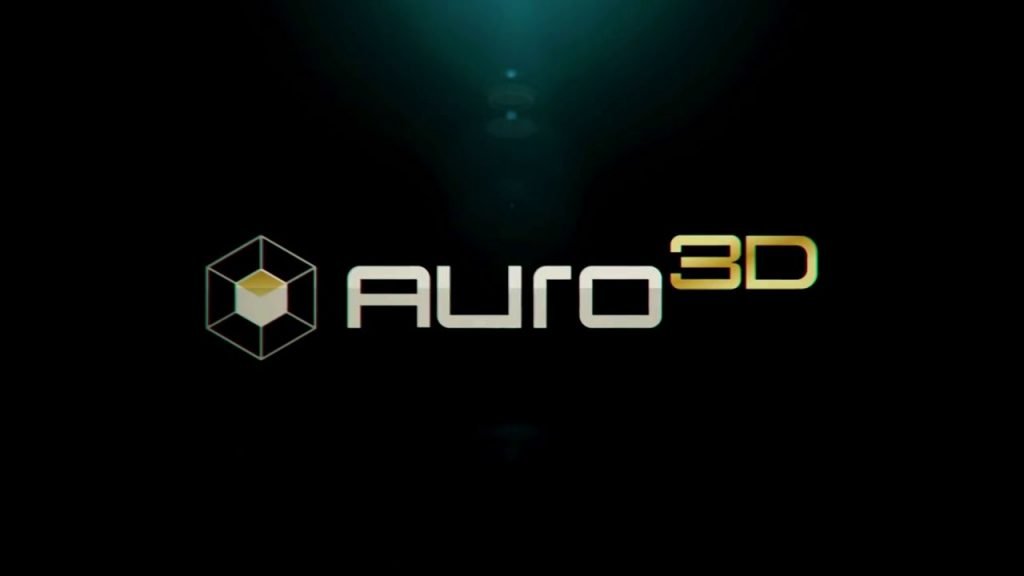 Immersive formats, as their names suggest, try to enclose, rather than simply surround, the viewer or listener in a dome of sound. They achieve this by building upon the standard surround formats with various height "layers". The most aggressive of this is seen with Auro-3D's "Voice of God" channel for its "top" layer in a three-layer setup. Both of Auro's competitors use only a two-layer design.Although the numbers such as 11.1, 11.2 or 7.1.4 are used almost interchangeably with such formats, it is important to note that all immersive formats are not designed like their forebears, where content is encoded in discrete channels. Instead, what they do is to simply build upon their previous iterations of multichannel codecs (remember when we said that they had more than 8 channels?) and use proprietary metadata to decode "object-based" information for a fixed number of sound objects in a film for the additional height and wide surround elements.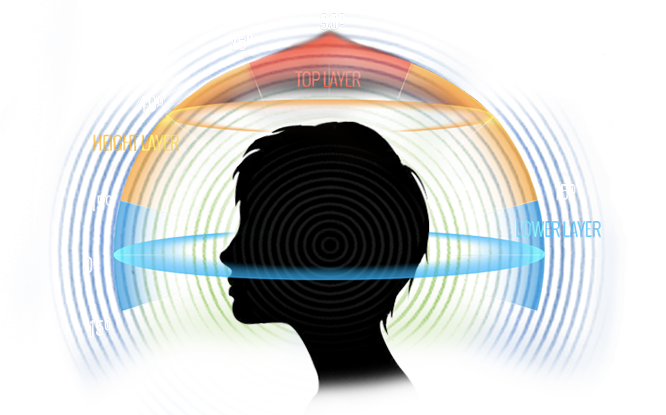 Down-mixing from the Top
So what this means is that those who have gone the extra mile to install new speakers compliant with immersive formats can indeed appreciate the difference. In fact, for Dolby Atmos, there are also even "meet halfway" products such as top-hat speakers which are speakers simply bolted or mounted on top of existing speakers to recreate that additional height element by bouncing the sounds off ceilings using digital calibration. Some soundbars also try to replicate this effect for smaller rooms, but none of these would obviously come close to the performance of dedicated ceiling-mounted speakers.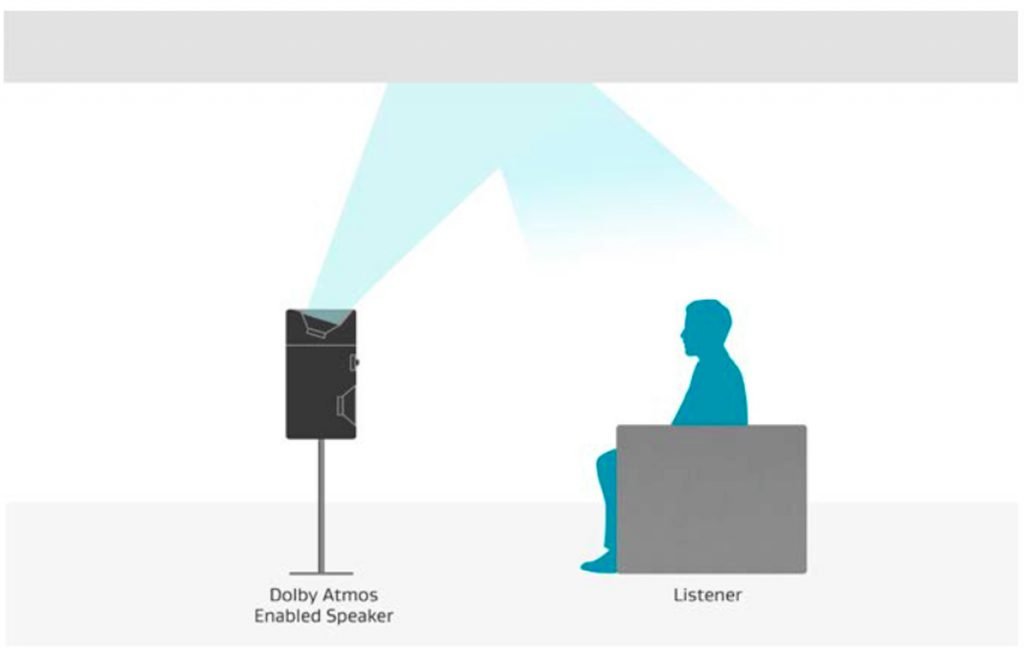 So, what happens when you lose the "height" speakers in a compromised setup? Thankfully, the boffins at Dolby, Auro and DTS have assured us that, with object-based sound, the "objects" that were previously destined for the height elements are now placed in the other discrete channels. The decoders in our AV receivers and processors will manage these accordingly so that nothing, content-wise, is missing.

Likewise, we can see a similar level of downmixing from 7.1 to 5.1 (regardless if you are going with Dolby or DTS) where the content from the four surround channels are mapped (or matrixed) into their corresponding left and right sides. Also, when playing 5.1 content on a 7.1 setup (bearing in mind the aforementioned positioning differences), the surround information is repeated across their corresponding sides to ensure even coverage.
Remember, it's how you use it.
Now, it is important to also remember that while all these fancy new immersive standards are appealing, it is not always applicable to all content. Right at the beginning, we had mentioned that television broadcast, along with the majority of most streamed and online content, are still being delivered only in "vanilla" 5.1. And, as long as you are using a modern AV receiver or processor produced within the last 5 years, chances are, you will also already have the necessary backbone to decode all the formats and codecs we have listed above.
What this also means for "real-world" users is that, regardless of your setup, as long as your choice of electronics and basic hardware setup is based on sound principles (pardon the pun), you are already in a good place. At the end of the day, it should be all about how everything is being used to enjoy your favourite content and not worrying about how you can "maximise" the utility of a format.