The portable background noise removal device for audio professionals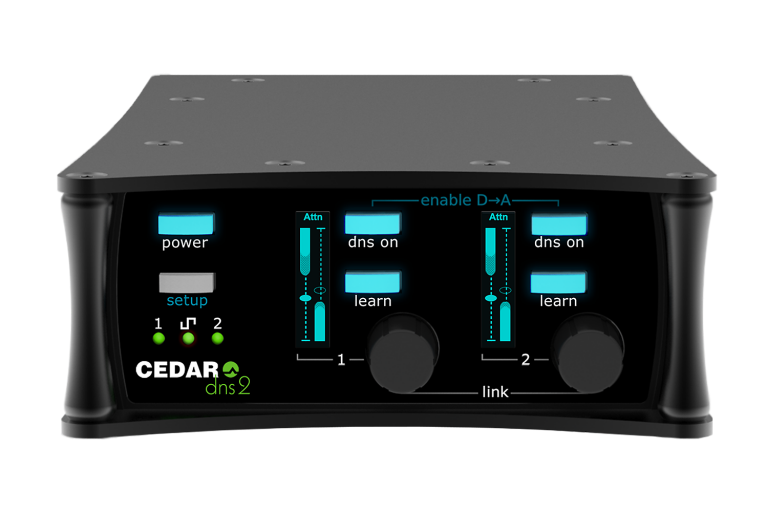 CEDAR's dialogue noise suppression (DNS) technology eliminates traffic noise, air conditioning, wind, rain, babble and general background noise from audio signals. It will also help to compensate for unfavourable acoustic conditions and poor microphone placement, and will even suppress excessive reverberation.
The 2-channel DNS 2 is the first DNS designed specifically for portability and extreme simplicity of use. It hosts a new DNS algorithm that requires nothing more than switching on the Learn function that identifies and adapts to the background noise, and then dialing in the amount of noise attenuation required. Retaining the near-zero latency of all its predecessors, it's suitable for use in all situations – location recording, live-to-air broadcasting, live sound in venues such as theatres, concert halls, conferences venues, and places of worship, as well as studio work and post.
What's more, despite being so small and light that you can slip it inside your pocket or equipment bag, the DNS 2 offers analogue line and microphone inputs (the latter with optional 48V phantom powering), an AES3/AES11 digital input, and both analogue and digital outputs. This increases its flexibility even further, and its 12V power input means that you can use it in the middle of a field as easily as in the studio or the edit suite.
Background
Specifications
Background
Noise is all around us: traffic, aircraft, the noise inside vehicles, air conditioning, wind, rain and other water noises, the noise from domestic appliances and even excessive reverberation. It annoys people, and it can render many recordings unusable. So noise suppression techniques are used to clean up noisy dialogue for film production, suppress ambient noise for live TV and radio broadcasting, revitalise sound effects libraries, and enhance speech for forensic audio investigations.
Until CEDAR's Academy Award winning DNS technology, you were forced to use processes such as low-pass and other filters, noise gates, dynamics processes, or processes developed from analogue encode/decode noise reduction systems. These often proved inadequate. Filtering is not selective about what it removes, and there is no relationship between the input and the filtering effect. Gates have no effect when the desired signal is present and lead to unnatural gaps in the signal. Other dynamics processes generate pumping, distortion and other unnatural effects, and encode/decode processes when used in this way simply act as dynamics processors.
The original CEDAR DNS process overcame all of these problems and resulted in a string of awards when implemented in our hardware (the DNS1000 and its descendents) and software products (DNS One and its siblings). Today, there is a further development of the DNS algorithm designed specifically for portability and speed of use, and this forms the core of the DNS 2 which combines portability and flexibility in a unit so small and light that you can slip it inside your pocket or equipment bag.
Specifications
For CEDAR Restoration & Forensic products click here